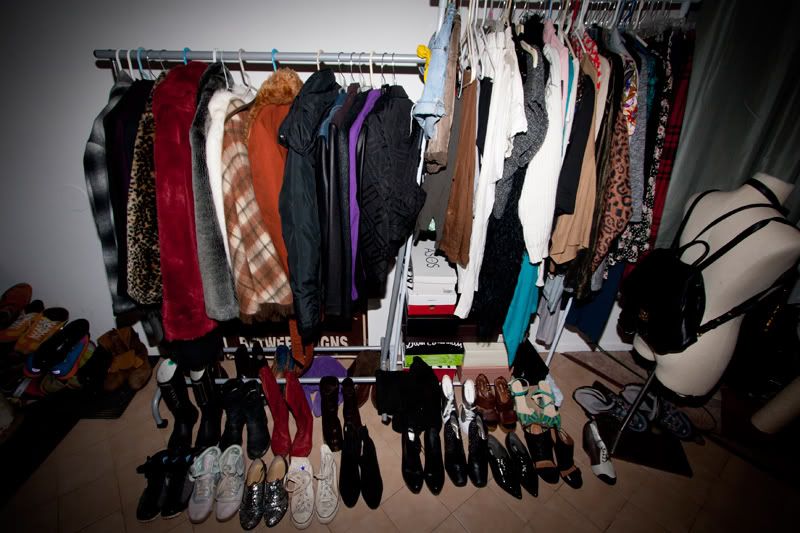 Shoes:
Thrifted/
Photos:
William Thomas
Did some major cleaning today and wanted to share some of the progress I made with my closet. Which isn't really a closet, but 2 lopsided rolling racks in our kitchen that my boyfriend puts up with. We have a closet in the bedroom that I've taken over but so graciously spared a foot and a half of space for him(I know I know, girlfriend of the year). I try to keep the clothes I wear more regularly in the kitchen and add some clothes that I should wear more often to the racks in there. Go too items like grandpa sweaters and out of season things I keep in the bedroom. There are quite a few things on the racks I'm especially excited to share. Alexander Wang shorts and a T by A Wang dress being 2 of them. I bought both ridiculously on sale(the shorts I scored for $35 and the dress $11). If you haven't been able to tell yet I'm really into finding things on the cheap. There's an unexplainable thrill when I find a designers "it" item for more than half the price it sold for originally. Even if it is out of season. The shoes in the bottom photo are a thrift attempt to make okay that almost every shopping site has the Alexander Wang
Addison
boot for less than $250 but only in a baby size 36. I wear a 40 sometimes 41 in high end shoes. My
thrifted
boots make me feel better... for the moment.